Last Updated on May 18, 2021 by Jim Edwards
PayDay is one of the most popular candy bars in America. It is an excellent snack for small pangs of hunger and is good for consumption post-workout to regain energy. The original candy bar consists of rolled salted peanuts with a sweet caramel-flavored gooey core. I have to be honest, as a kid, the Payday bar was one of my favorites!
History of the PayDay Candy Bar
PayDay came into fruition for the first time in 1932. Hollywood Candy Company were the original manufacturers. The candy got its name "PayDay" because it was produced on payday in the company. The product was encouraged as a meal replacement during the Great Depression!
Over the years, there have been many variations in the PayDay product line. For example, in 2003, there was a "limited edition" Honey Roasted version and in 2005 a PayDay Pro which was a high protein energy version.
The Leaf Candy Company acquired the Hollywood Candy Company in 1988. Later, the Hershey Company took over in 1996. The PayDay candy bars have been a part of the Hershey's company ever since. Hershey's released the Chocolate PayDay candy bar in 2020. 
See also: Loacker Wafers
Payday Candy Bar Ingredients
The original peanut caramel PayDay candy bar consists of peanuts, sugar, corn syrup, skim milk, palm oil, sunflower oil, contains 2% or less salt, Carrageenan, mono, and diglycerides. 
What is the Flavor and Taste of a PayDay Candy Bar like?
The PayDay candy bar stands out from the generic chocolate and peanut combination. Instead, it has salted peanuts that are tightly rolled with each other. You find the chewy caramel at the center, which just explodes its sweetness in your mouth with every bite you take.
The saltiness of the peanuts is not extreme. The sweet and savory tastes are balanced due to the sweet caramel on the inside. The crunchy exterior and chewy soft interior make for a perfect combination in a single candy bar.
PayDay Candy Bars – Frequently Asked Questions (FAQs)
Who makes payday candy bars?
Frank Martoccio curated payDay Candy bars. The Hollywood Candy Company manufactured it in 1932. Currently, the Hershey Company is the sole manufacture of this incredible candy bar.
How many calories are there in a PayDay candy bar?
One serving of a PayDay candy bar (52g) consists of 240 calories.
Are PayDay candy bars gluten-free?
We are pleased to inform you that the PayDay candy bars are gluten-free. They make for a healthy snack option when consumed in the recommended amount. It is a perfect snack for an after-school walk or post-workout energy revival. Since the candy contains sugar should avoid over-indulgence.
Is PayDay Candy Bar Really Changing its Name?
In short, the answer is NO. In  February 2021 there was a meme going around the internet that PayDay was changing its name because it was offensive to people who were not working. This was a meme that was making fun of "cancel culture" in which American's were being overly sensitive. But it was just a funny meme as shown here with Will Farrell as Anchorman Ron Burgundy.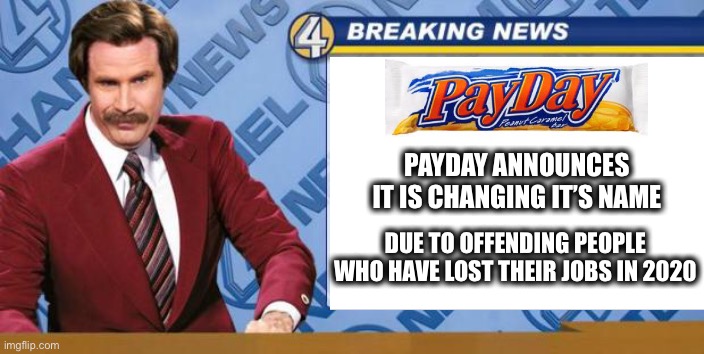 What is the PayDay candy bar slogan?
The Hershey's company has not released an official slogan for the PayDay candy bars. But they have used some unofficial slogans over the years. Two of the most popular ones:
 "Totally nuts about Payday!"

"Can't Get Enough Peanuts? Get a PayDay!"
Payday candy bar nutritional facts
Below are the nutritional details of one PayDay candy bar (52g).
| | |
| --- | --- |
| Calories | 240 kcal |
| | % daily value |
| Total Fat (13 g) | 17% |
| Saturated Fat (2.5 g) | 13% |
| Trans fat (0 g) | 0% |
| Cholesterol (0 mg) | 0% |
| Sodium (120 mg) | 5% |
| Total Carbohydrate (27 g) | 10% |
| Dietary fiber (2 g) | 8% |
| Total sugar (21 g) | |
| Added sugar (19 g) | 37% |
| Protein (7 g) | |
| Vitamin D (0.0 mcg) | 0% |
| Calcium (51.0 mg) | 4% |
| Iron (1.0 mg) | 6% |
| Potassium (200 mg) | 4% |
Ingredients Peanuts, Sugar, Corn Syrup, Skim Milk, Vegetable Oil, Palm Oil, Sunflower Oil Contains 2% or Less of: Salt, Carrageenan, Mono and Diglycerides Allergens PAYDAY contains Milk and Peanuts.
Related: Oh Henry Candy Bar Review
Payday Candy Bar Commercials
Over the years, PayDay has had some really fun commercials!
Here is one of the original commercials that Hershey aired for PayDay. You can see and almost taste the allure. It's a candy bar, full of peanuts and slightly alluring!
And here is another one that focuses on it being for "energy" and full of peanuts. It does make you wonder if these claims for energy would be allowed in 2020. And I have to be honest, just watching this actually makes me want to go buy one right now!
See also: 5th Avenue Candy Bar Review
Image Credit: GreenGlass1972, Public domain, via Wikimedia Commons
I'm Jim Edwards and I started this website to share my love of Junk Food. We cover new junk food, desserts, snack foods, fast food secret menus, candy (of course!) and other related news. We love trying "secret menus" at restaurants. And we love trying new products too. So, we are trying to have some fun with our hobby and share some useful information with you, our community. Please feel to send us your suggestions and feedback through the contact form. And if you have products you would like us to try, let us know…!